Dear Fellow Members,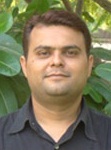 Let me take an opportunity to say thanks to everyone who have created fantastic platform for all of us to serve for IT fraternity. Our chapter is very vibrant and instrumental in organizing various conferences, workshops, seminars and popular public lectures. Many Stalwarts of IT field has showered their blessings on us in various ways. Our chapter is very fortunate to have supporting Seniors, Fellows, Patrons and well wishers.
In the era of collaboration, team CSI is committed to work with partners such as IEI, IETE, ACM, IEEE and Mobile Monday. We are into the talks with the key stakeholders of all these institutions. The team CSI-AC is quite enthusiastic and willing to work with full potential. I request you to extend your support to all of us to make CSI-AC a strong brand.
Activity plan for the chapter is planned diligently and we have an intention to organize these events at various places including Educational Institutes across Ahmedabad. I hereby seeking your proposal to organize event planned by your organization or mentioned in the activity planner at your respective places. In case, this interest to you, please do write us on os@csiahd.org or to me on sandip.vasant@gmail.com. We would be glad to organize event jointly with your organization.
We would also like to do fund raising activities for the chapter to be sustainable in longer run apart from workshops/seminars for students and faculties. We strongly believe that there should be an equilibrium between Academic and Industry interaction and hence we welcome suggestions from all of you to achieve the common goal and vision set by the founders of CSI-Ahmedabad Chapter.
I have learned through my past experience that there is a tremendous scarcity of skilled professionals in the IT industry. I believe that CSI - Ahmedabad Chapter can play a bigger role and has the capacity to transform raw talent into the employable talent.
Look forward for your support.
Thanking you.
Yours truly,
Prof. Sandeep Vasant
CHAIRMAN - CSI
AHMEDABAD CHAPTER